Do you get more off the beaten track than having to board a pontoon to get to a wine estate? The bright yellow ferry carrying our car trundled slowly across the mud-brown river, while we leant against the steel railings outside. The sun bounced off the water for a soporific effect, a feeling of languor dropped like a veil. From the mad race across highways and dirt roads to get here, suddenly everything slowed right down. Sijnn Wines, approximately three hours from Cape Town, is located in Malgas at the mouth of the Breede River, forty kilometres away from any other vineyards, and about 15 from the southern oceans of Africa. Malgas has been designated as a new ward from the 2010 vintage.
We had to traverse yet another dirt road before finally seeing the unassuming cellar, just another koppie rising up from the scrub. Built with the surrounding river stones, the cellar was designed by owner and trained architect David Trafford (of De Trafford Wines in Stellenbosch). But it's his young winemaker Charla Bosman we're here to meet.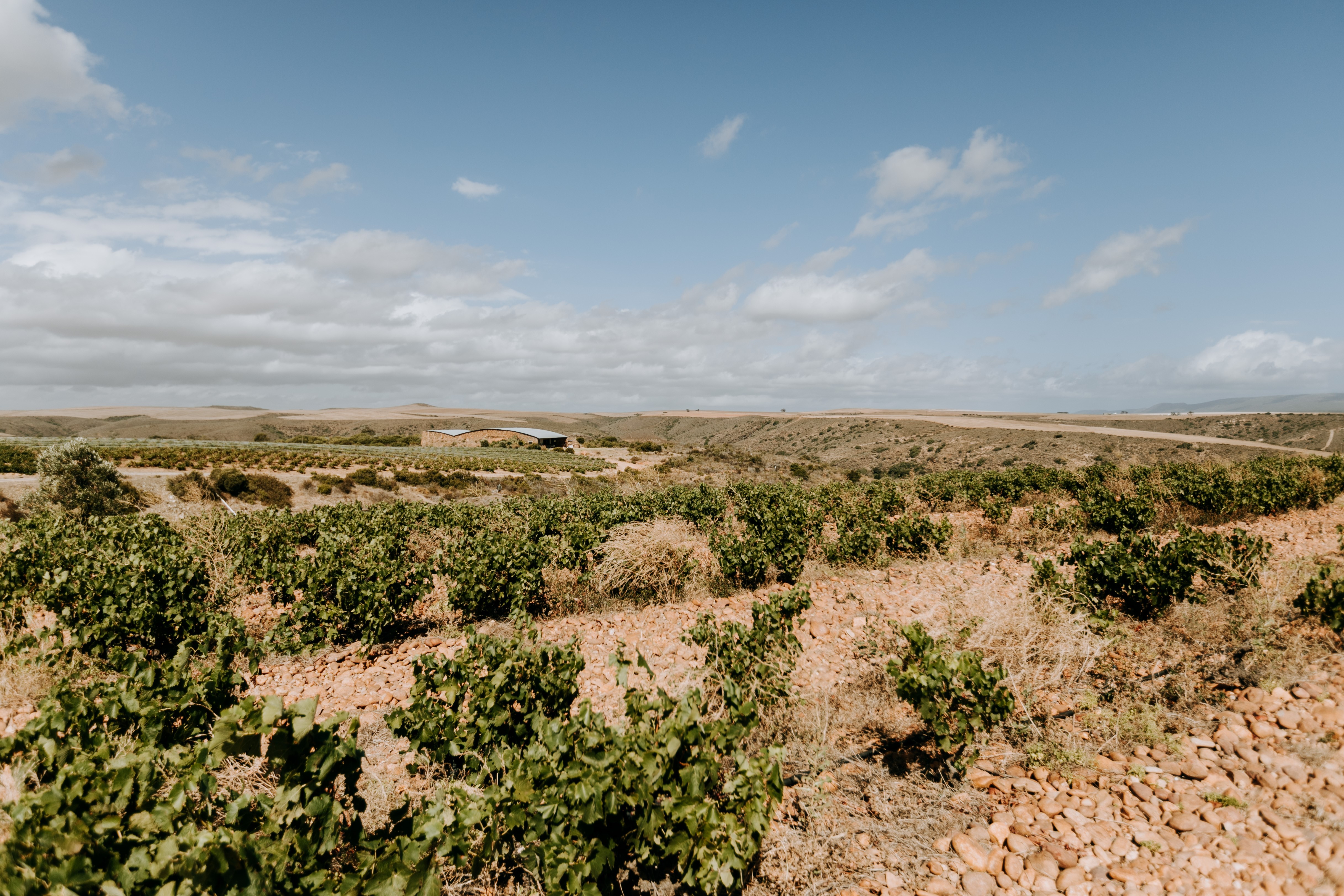 Armed already with hats for our vineyard walk, you get the feeling that out here in this riverine wild; Charla is closely in tune with whatever nature might throw at her. With her bobbed blonde hair tucked under a bucket hat, Charla led the way. It's unlike any vineyard I've ever seen, part Châteauneuf-du-Pape, the soil appears to be only round river stones reminiscent of those famous heat-retaining galets, and part Douro, the valley cut through with the river, creating hills of varying ascents; for a combination of most African vineyard site I've seen. A plateau of slate juts out like Pride Rock, covered in a bushvine sprawl and aloes aplenty. The bright orange of lion's ear blooms teamed with sap seeking sunbirds. The ceiling of the sky felt low enough to touch.
A big hole dug nearby shows just how unique the soil is, stacks of stones go down metres deep. What kind of madman would plant a vineyard here? Two in this case. It was while on holiday in the region in 2000 that owners David and Rita Trafford were inspired by the Portugal-esque landscape, fast-forward to a purchase agreement and more than 200 soil profiles later that they planted ten hectares of Southern European and Mediterranean varieties they deemed best suited to the warm and dry climate. They named it Sijnn, the word being derived from the Khoisan for riverbank.
Charla has been here for six years, a gig she picked up when she was just 25. There is only one other person with her today. Like most days.
"The isolation is interesting," she shared with a smile. "I do love it but I also sometimes do struggle. The closest store is an hour away in Swellendam, so planning has definitely become a strong point of mine. But if something breaks or if we need something urgently, it takes time, so we have learnt to have patience." She says she's adopted 'a boer maak 'n plan' kind of attitude.
Being so isolated also means being very hands-on. Charla wears many hats, from winemaker and farmer to marketer.
"The vineyards are extreme. I haven't stopped learning since I got here. When I was studying I always thought I loved the winemaking part the most, but the viticulture is way more exciting."
We retreated into the cool alcove of the terrace to taste the wines; complete with roughhousing kittens, the view framed by the curve of the roof. The focus here is on the red and white blends (a delicious blend of chenin, roussane, viognier) both made in tiny volumes, unfiltered and unfined. From the 2015 vintage Charla has made the wine, the red in particular is striking. The latest vintage the 2017 is a blend of 67% syrah 14% mourvedre 11%, touriga nacional and 8% trincadeira, all estate grown. An enchanting and complex fragrance of dark perfume, violets and lavender, of sun-baked stones, and savoury spice. The palate is layered and concentrated, black plum compote and juicy berries are tempered with a bracing freshness, the firm tannins pull the wine into a dry finish, making you want to go back for more.
Charla's talent in winemaking – and farming – is evident. Though just 31 she has worked hard and smart, gaining experience while being mentored by some of the industry's finest. But like many of these stories, it wasn't always about wine.
Far from this desolate landscape, Charla shared she's a 'born and bred Jozi city girl'.
After school her path led her to pursue engineering. "I thought I'd like to be a mining engineer or a chemical engineer… what was I thinking!" And so she completed a short course, followed by a holiday in Knysna, her first ever trip to the Western Cape.
"While we were there we went to a market where someone was doing a wine-tasting, during which he explained the 'chemistry' of wine. Immediately I was intrigued. I knew instinctively that this is what I wanted to do, even though at that stage I'd never even had a glass of wine finer than Four Cousins.
"I told my parents I wanted to do BSc Viticulture and Oenology. The response was –'you get one chance'. Here I am, I made it count."
After achieving her degree at Stellenbosch, her first harvest was at Kanonkop with the famous Abrie Beeslaar. "It was definitely the most physically and mentally challenging harvest. The hours were really long with punch downs all day. It definitely instilled a work ethic in me."
Next was a harvest at Tokara under the mentorship of the celebrated Miles Mossop. Then veering off into a side road she joined Fritz Schoon from Schoon De Companje in Stellenbosch and helped them start up a wine shop. There she also made the inaugural Patatsfontein old vine chenin blanc, which is now firmly on its way to gaining cult status.
Her next move was to fly to California to work at Margerum in Santa Barbara.
"I loved the US, I learnt a lot, I travelled a bit too. Then I saw an ad for an assistant winemaker at Sijnn, did an interview with David over Skype, and here I am. I honestly had no idea where Malgas was, but I thought both the wines and story were great, so I decided to jump!"
Where does she get her courage from, to keep leaping into the unknown as she does – from studying wine which at the time was completely alien to her to winging off to the States – and then heading into the no-man's land of Malgas?
"My mom played a big part in who I am today. she has always been extremely independent. She worked as an advocate and later a lecturer at Wits. I've always being so inspired by this working mom of two, who still ran a household, making our house a home and just being present. I now realise, with my own toddler in my life, it really was not as easy as she made it look, yet she did it!"
She should know. Charla lives in Swellendam with her husband, Casper and their two-year-old, Beth. She's also currently five months pregnant.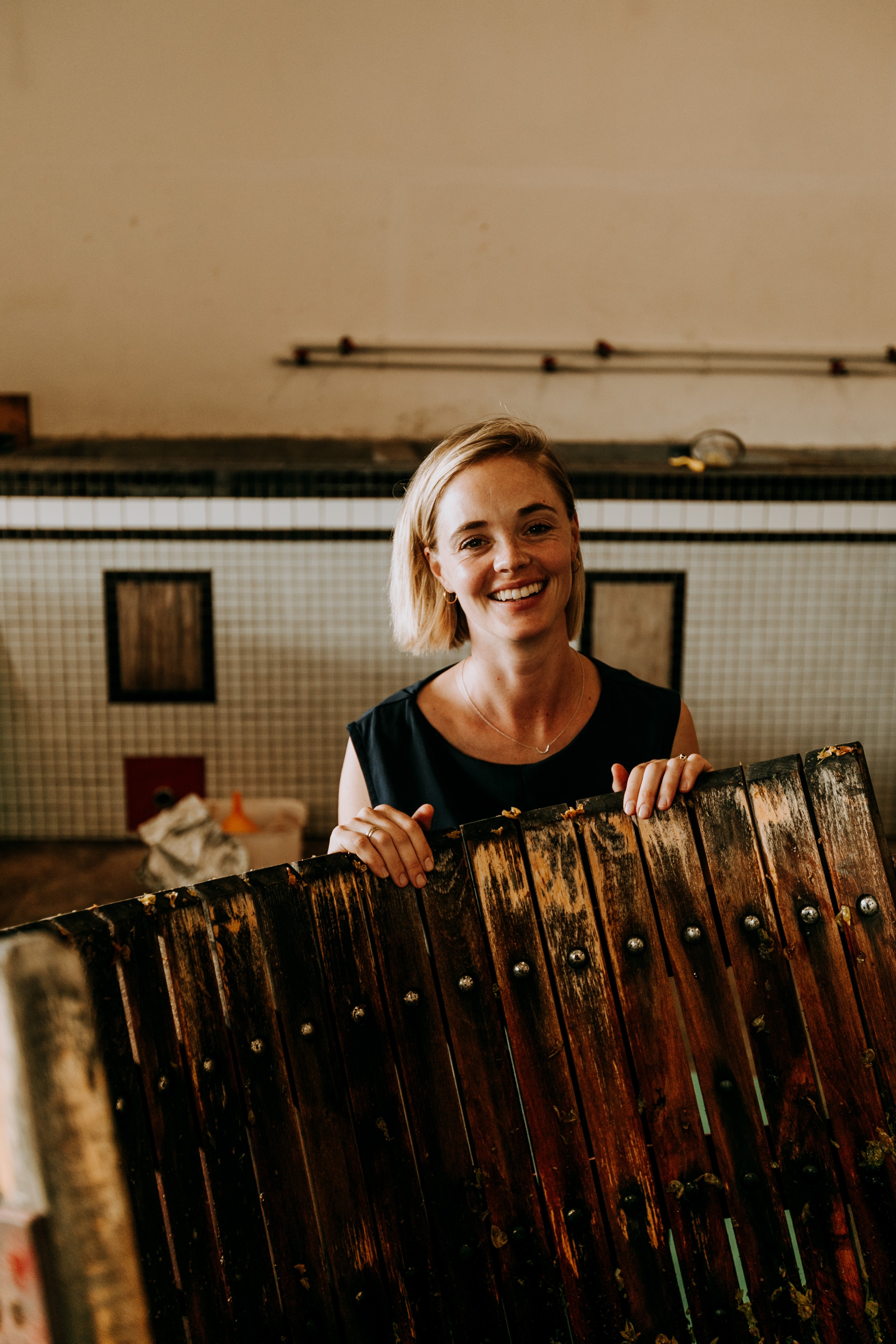 Being at the vanguard of not only a new region, but also a part of the exciting new generation of young winemakers Charla thinks the future for South African wine is bright.
"The industry has really developed so much in the past 10 years, albeit with all the challenges. There are so many young and dynamic people doing incredible things. We have some of the most interesting sites.
"The best part for me is that most of the people I know in the industry are always willing to help and back one another.
"On the challenging days, when I freak out about things – my husband always says that a work day only has a certain amount of hours to get things done, the sun will come up again in the morning and then you can get at it again."
And with vineyards this close to sky, the sun always seems to come up that much quicker