Artist Mariëtte Kotze was tasked with painting dreamy interpretations of each of the six vineyards and the resulting labels demonstrate their commitment to the sites. In order to express the individuality of the blocks the Cravens favour low-interventionist winemaking: wild ferment with no additions, using only older oak and larger format barrels in fermentation and maturation. Only a small amount of sulphur is used. The wines are bottled unfiltered and unfined.
The wines respond to this hands-off approach with a resonant fruit purity; but with that distinct Craven touch, one of freshness and a light-footed dexterity.
Their range is definitely worth seeking out, as are these other wines I've been enjoying this April.
April's Top 10 Wines
Craven 'Newlands' Pinot Gris 2020
Generally bottled as a white wine, Pinot Gris is in fact a red-skinned grape. The Cravens wanting to capture that coppery-rose colour fermented the wine on the skins. Extracting some extra flavour and fine tannin while doing so too. It's lifted and floral on the nose with a strawberry freshness. The palate is more savoury with pomegranate and an appely crunch leading to a dry finish and a tug of phenolics. Both interesting and appetising. R210 (92)

Craven The Firs Vineyard Syrah 2020

Devon Valley grapes are kept 100 per cent whole bunch and lightly stomped by foot to extract a little juice. The wine was then pressed after 10 days on skins into old puncheons for 10 months. A seductive perfume of violets and bergamot reel you into a lithe, silky palate. Super fresh and light offering a mix of red and black fruit with a ground black-pepper finish. R285 (93).
Steenberg The Black Swan Sauvignon Blanc 2019

Effortless complexity. This is no pedestrian Sauvignon Blanc, but rather one with layers and intrigue, from pretty top notes of blossom and blackcurrant to a palate full of tension and racy acid, the fruit evolving into yellow apple and clementine, the finish pink-grapefruit pithy. R240 (92).
The Giant Periwinkle Sun Spider 2019

Ocean-born, this pinotage is as new wave as it gets. The Giant Periwinkle is located in Baardskeerdersbos, just outside of Elim in the Agulhas Wine Triangle. As luck would have it a small patch of pinotage was found on the farm, which winemaker Pierre Rabie channeled into the bottle for a cool, fresh and fragrant wine loaded with cherries and spice. It finishes salty, like everything else around there. R175 (92)
Sijnn Red 2017
From the rocky soils of first growth Malgas W.O comes this serious red blend. 2017 is a blend of 67% syrah 14% mourvedre 11%, touriga nacional and 8% trincadeira, all estate grown. An enchanting and complex fragrance of dark perfume, violets and lavender, of sun-baked stones, and savoury spice. The palate is layered and concentrated; black plum compote and juicy berries are tempered with a bracing acidity. The firm tannins pull the wine into a dry finish, making you want to go back for more. R385 (94)
The Ellerman 2018
Style and substance. The super sommeliers from Ellerman House – Wayve Kolevsohn and Manuel Cabello – have collaborated with winemaker Erika Obermeyer for this eponymous wine. A blend of Syrah (59%), Grenache (20%), Cinsault (15%) and Cabernet Sauvignon (6%), the wine presents as modern with its fresh and elegant flavour profile, but with a nod to heritage too. The blending of of Cinsault and Cabernet Sauvignon is an old South African trick – the Cinsault for the juiciness and the Cab for structure. In this case the Cab gives it a good grip on the finish, like a parting handshake. R850 (91).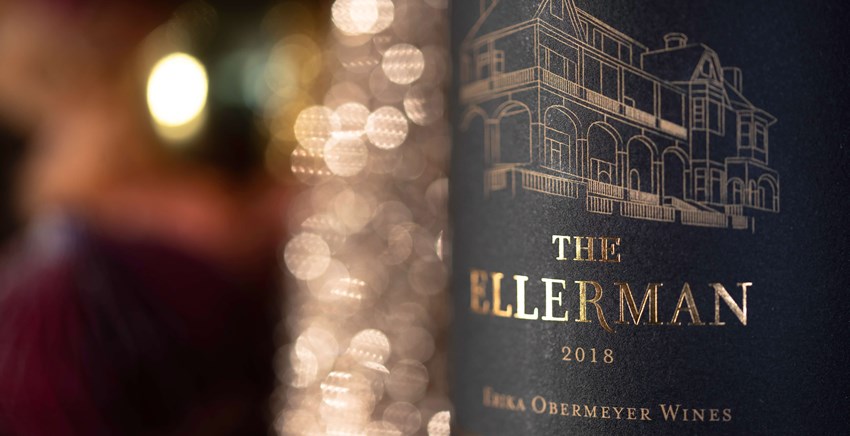 A.A. Badenhorst Kalmoesfontein Red 2019
A confident, thrilling wine – showing just how seamless a blend can be when the varieties are co-fermented. Grapes were sourced from nine different vineyards, a blend of Shiraz, Cinsault, Tinta Barocca, Grenache and Touriga Nacional. Ripe mulberries, black cherries, liquorice, dark chocolate, rosemary and sage are the abundant aromatics. Supreme balance and length on the palate, though still quite coiled, a good portend for evolution. I'm excited to see where this goes. R350 (95)

Longridge Ou Steen Biodynamic Chenin Blanc 2017

This Old Vine, biodynamic beauty was inspired by the wines of Vouvray. Honeyed and sweet-fruited but with a lancing, mineral acidity – like a washing line straight through, allowing all that richness of fruit to hang in a light, airy kind of way. All the clusters are here, tinned pineapple, lime blossom, apricot, smoky toast and marmalade, with tangy, mouthwatering finish. R395 (94)
Great Heart Swartland Red Blend 2019
A new staff empowerment project called Great Heart Wines, started by Mullineux & Leeu Family Wines. A blend of Syrah (51%), Tinta Barocca (34%) and Cabernet Sauvignon (15%).A spicy, wild edge brought on by the Tinta, that characteristic Swartland funk, brightened and polished by the portion of whole cluster. There's a succulent mix of red and black fruits on the palate, framed by a fine-boned skeleton, likely the Cab's contribution. Price to be confirmed. (90)
Jackson-Triggs Vidal Reserve Icewine 2018

Now being distributed in Africa, Canadian IceWines: Inniskillin, Jackson-Triggs & Sawmill Creek. The Vidal Reserve is concentrated and primary, with rich tropical fruit, caramelised pineapple and mango as well as stone fruit, apricot and peach. The acid is electric, cutting through all the sweetness. Frozen grapes are harvested in the middle of winter, and pressed – a miniscule amount of juice comes out, all the sugars of the grape concentrated, the water frozen. R1 068.00 (94) Visit www.icewineafrica.com for more info.